Garage Door Openers
Back To Our Services
There is a wide variety of ways to upgrade your garage door opener. Some are more affordable than others, and some upgrades are only suitable for certain circumstances. Sometimes it is best to get a professional opinion as to which improvements are best for you and your particular situation. Whether you want your garage door to be more convenient, more attractive or less noisy, there is a means to satisfy your daily needs. Here are some of the most popular upgrades that are appropriate for almost any design of door.
Automatic opener systems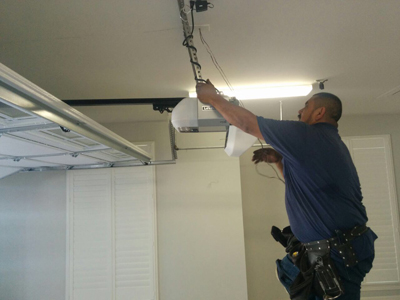 If you don't already have one, an opener is a collection of components that can be installed onto your existing garage door to convert it into an automatic one. Openers can come with remote activation, clickers or automatic sensors. Whether you have an overhead garage door, a sliding variant or carriage door style, there will very likely be a garage door opener that is applicable. Prevent yourself getting caught in the rain, or ever having to manually open your garage door again.
Quieter operating
If you have an opener and think it's making too much noise, there is a sure way to tone it down. Most traditional chain drives will tend to develop a loud rattling sound over time. If you have one that is particularly old, it's likely more than noticeable to you and your neighbors. A brand new chain drive will almost certainly be a vast improvement. What might prove even better, is to replace the chain for a belt drive. These are generally far quieter than chain variants and will likely stay quiet for much longer over the course of its life span.
Smartphone Integration
Some of the latest opener designs can be synced and activated from your mobile devices. No more remote controls or clickers. Just open your garage with your mobile phone or tablet through a handy app.
Garage Door Opener Installation
If you're considering some of the ways in which you can upgrade your garage door, call Garage Door Repair Santa Barbara for advice and expert installation. We can help ensure your new garage door improvements are professionally fitted, and perfectly suited for your needs. Our expansive range of services includes repairs of all garage door designs, maintenance, replacements and troubleshooting.